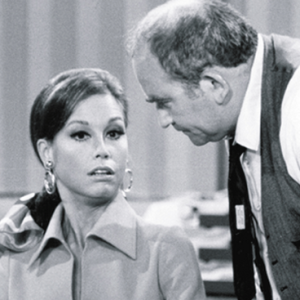 When the hit show Seinfeld ended, Jerry Seinfeld noted that he "wanted to go out on top like Johnny Carson." But Johnny Carson wasn't the first executive to decide to go out on top. That honor belongs to Mary Tyler Moore.
The Mary Tyler Moore Show ran for 7 years from 1970 – 1977 and won 29 Emmy's. This winning streak wasn't broken until Frasier came along in 1993.
People often think that going out on top is an easy decision. But is it really that easy to quit?
Peer Feedback
In her autobiography, "After All", Mary Tyler Moore contributes part of the decision to end the show to feedback from the staff. The Writers and producers felt that they had taken their characters down all the roads that held promise during the show's 7- year run. Were they right? We'll never know. Clearly more adventures were awaiting, though, as evidenced by the success of Lou Grant, The Betty White Show, Taxi, and Cosby – all of which were written and produced by alumni from The Mary Tyler Moore Show.
What kind of feedback are you getting from your peers? Are they telling you that you would be great in a different role or industry? Does their feedback make you yearn to try something new? If so, perhaps it's time to move on.
Family Feedback
Mary Tyler Moore and her then-husband, Grant Tinker, founded MTM Enterprises. Grant acted as the CEO. The organization went on to produce other award winning shows such as Rhoda, Phyllis, Lou Grant, Hill Street Blues, St. Elsewhere, The Bob Newhart Show, and WKRP in Cincinnati. Interestingly, the creators of Frasier were influenced by The Bob Newhart Show (a psychologist) and WKRP in Cincinnati (a radio show).
By the time The Mary Tyler Moore Show ended in 1977, Mary and Grant's marriage was starting to fall apart. They separated before the show ended and tried to avoid each other while on set. They eventually divorced in 1981.
What kind of impact is your job having on your personal and work relationships? Are you starting to avoid certain coworkers? Is your family proud of the work that you're doing? If they're only hearing frustration or wistfulness when you talk about your job, it might be time to move on.
Career and Financial Implications
Shortly after they divorced, Grant was offered a job as the CEO of NBC.   This meant that he had to divest himself from any interest in MTM Enterprises. So, Mary bought him out.   Interestingly she never assumed a leadership role at MTM. Instead she hired a CEO to run MTM.   Meanwhile, she continued to work on stage and in film, most notably winning an Academy Award Best Actress nomination for her work on "Ordinary People".
Eventually Mary faced every entrepreneur's dilemma: Should I sell the business?
Like many privately owned companies, most of MTM's profits went back into the business to finance new shows with the hope of future growth and returns. Mary had to ask herself: What's the value now? Will it increase? What's the overall business climate? Is it time to take the money and run?
In "After All" Mary notes, "it was a relatively easy choice since I hadn't been involved in the running of our little empire and therefore wouldn't miss the power seat it provided."
I think this is a great way to sum up a major career/business decision. Is your ego feeding your decision? Does your decision give you the freedom to do what you love?
Facing Fear
Sometimes we get complacent in our jobs.  We do well, get good reviews, and enjoy bonuses. We think our jobs are secure.  It's easy to talk yourself into staying in your job, even if you know it's not your highest calling.
Fear can drive a lot of indecision in your career.  It can also make you stay in your job a lot longer than you expected or wanted to.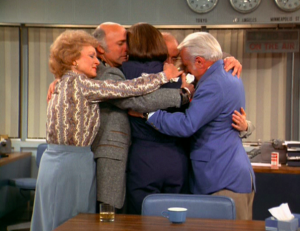 Summary
Mary Tyler Moore made it look easy to go out on top when she ended her iconic show and when she chose to sell MTM. In reality, there were a lot of personal crises going on behind the scenes. By the time she sold MTM she had two failed marriages, lost a sister from an overdose, lost her son when he accidentally killed himself, and was battling alcoholism and Type 1 diabetes. It's easy to see her decisions as a "take the money and run" move. Instead, Mary understood that she valued acting over producing, directing, or running a studio. When you understand your passions and strengths, going out on top becomes an easier decision.
Images courtesy of TV Land