We all know that compensation plays a key role in recruiting.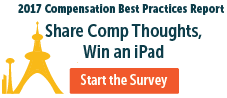 That's why we're big fans of PayScale's extensive database of compensation information. We use their market data to get pay information on just about any industry, region, job title, and certification. We're also big fans of PayScale's library of content about compensation, which covers just about anything that has to do with compensation.
Each year PayScale produces a "Compensation Best Practices Report" (CBPR) which many practitioners consider their go-to resource on compensation. This report is based on the HR and
compensation thoughts of thousands of professionals, and covers FLSA, managing millennials, pay transparency, HRIS software, and many other hot topics. We've found this report to be really helpful and will definitely be taking their survey. We hope you will too. And if you take the CBPR Survey now, you will also get early access to the survey results and get a chance to win a new iPad Air 2.