In late March, Indiana Governor Mike Pence (R) quietly signed the state's Religious Freedom Restoration Act (RFRA) into law. The Act potentially legalized discrimination against lesbian, gay, bisexual and transgender (LGBT) individuals by allowing any individual or corporation to cite its religious beliefs as a defense when sued by a private party.
But many opponents of the bill, which included business leaders, are concerned that it could open the door to widespread discrimination. From a customer perspective, business owners who don't want to serve LGBT individuals are now legally protected. Additionally, most states don't provide legal protection to LGBT individuals in employment situations, and there is limited federal protection. RFRA essentially legalized discrimination in Indiana in the hiring and employment context.
The Indiana bill was signed in response to a recent court ruling that made gay marriage legal in that state. The bill aims to protect florists, churches, and other wedding-related industries from having to service a gay wedding.
The original Religious Freedom Restoration Act was passed in 1993 and signed into law by President Clinton. One of the purposes of RFRA was to ensure that an individual's religious practice would only be limited by the least restrictive means of furthering a compelling a government interest. In 1997 the Supreme Court held that RFRA only applied to the federal government, so several states, including Indiana, passed their own versions. Most of these versions protect state government workers and students who wish to pray in public schools.
These are all interesting freedom of religion questions that deserve the attention of a constitutional law expert. I'm not that person. Instead, let's explore how bills like RFRA impact recruiting and branding initiatives, and why corporate leaders find Indiana's actions to be so abhorrent.  In fact, there was such an outcry in the business community that within weeks of signing the original bill into law, Pence signed a revision.  The revised law prohibits service providers from using it as a legal defense for refusing to provide goods, services, facilities or accommodations. It also bars discrimination based on race, color, religion, ancestry, age, national origin, disability, sex, sexual orientation, gender identity or U.S. military service.
Marriage Equality has Outpaced Workplace Equality
Check out the contrast in these maps, courtesy of the Human Rights Campaign.
Same sex marriage is now legal in 37 states. Nearly 72% of the US population lives in a state that currently issues marriage licenses to same sex couples.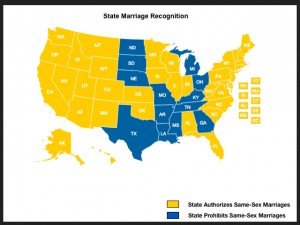 In contrast, only 21 states and the DC have laws that prohibit discrimination based on sexual orientation. Only 16 states and DC prohibit discrimination based on gender identity.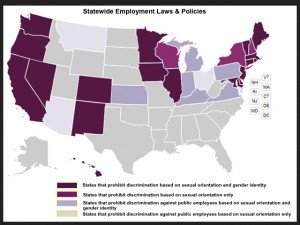 To summarize, it's perfectly legal to obtain a license for a same sex marriage in 37 states. But in states like Indiana, it's also perfectly legal for a restaurant or hotel to refuse to allow you to hold your reception at their venue, and for your employer to terminate you based on your sexual orientation. Workplace equality laws clearly haven't caught up to marriage equality yet.
Discrimination Damages Your Marketing Brand
In my home state of Texas, a similar version of the Indiana bill has been introduced several times. Although the state legislature is conservative, many cities, including Dallas, Fort Worth, Houston, Austin, and San Antonio, have enacted local ordinances that prohibit discrimination against gay and transgender workers. The bills that were introduced would reverse these municipal laws and would effectively make discrimination legal in these cities.
Texas prides itself as being "open for business." The state has done a wonderful job of attracting major corporations, and business is booming. Texas is home to iconic brands such as Exxon, Southwest Airlines, AT&T, American Airlines, Whole Foods, and Sysco. In January, Toyota broke ground outside of Dallas for its new North American headquarters. These companies, along with other major employers, already have their own policies that prohibit discrimination on the basis of sexual orientation.
During the current Texas legislative session, a Religious Freedom Bill was introduced, but a savvy legislator realized that the bill would harm the state's pro-business climate. The bill was withdrawn.
Businesses should have the right to determine who they serve and hire as long as they base the decision on a legitimate, non-discriminatory reason. For example, if you own a restaurant you should have the right to refuse to serve – or even eject – a customer who is acting in a confrontational or abusive manner. This is a legitimate, non-discriminatory business reason to refuse service. Deciding not to serve an entire class of people based on their sexual orientation is very different.
Leading companies and organizations swiftly distanced themselves from Indiana's actions. Apple CEO Tim Cook tweeted "Apple is open for everyone. We are deeply disappointed in Indiana's new law and calling on Arkansas Gov to veto the similar #HB1228." The Indiana Chamber of Commerce stated, "In our eyes, the law is entirely unnecessary." Angie's List has canceled a $40M, 1000 jobs expansion plan in its hometown of Indianapolis and is reviewing alternatives. Gen Con, which is probably the largest gaming and hobby convention in the country and brings $50M to the state economy, is also considering alternative locations.
Perhaps Texas is ahead of the curve on this issue.
Government Contractor Requirements
In the US, a surprising number of companies are government contractors (or subcontractors). Government contractors are subject to rules that are established by the Office of Federal Contract Compliance Programs (OFCCP). President Obama signed an executive order in July 2014 that added sexual orientation and gender identity to the prohibited bases of discrimination in the workplace (along with race, religion, sex, age, and other Title VII protections).
As we've noted, most large companies already have their own anti-discrimination rules. This is because they realized that they needed a robust diversity policy that reflected their customer base. For example, many companies offered domestic partner health insurance benefits long before gay marriage became a national movement. By proactively offering benefits, companies signaled to both customers and employees that they supported gay rights. Additionally, their diversity effort supports their recruiting brand.
Your Recruiting Brand
We're approaching full employment in the US, and the talent war is raging. As the largest demographic in the country, Millennials are highly sought after by companies to be both customers and employees. According to Pew, Millennials are:
America's most racially diverse generation
Relatively unattached to organized politics and religion
Linked by social media
Social justice minded
70% support gay marriage
74% believe that gay and lesbian individuals should be accepted
Simply put, it's going to be difficult for companies that don't tolerate LGBT individuals to attract Millennial talent.
Eli Lily, which employs more than 11,700 workers in Indiana, summed it up nicely by stating, "We certainly understand the implications this legislation has on our ability to attract and retain employees. Simply put, we believe discriminatory legislation is bad for Indiana and bad for business." This legislation is clearly bad for Eli Lily's recruiting brand.
It's About Love
Gay rights are no different than any other civil right. And let's not forget that LGBT individuals are certainly not one-dimensional. In addition to being LGBT, they still have traditional equal employment opportunity rights based on their sex, age, religion, disability, etc.
Does this come down to love? If you love your customers, you will treat them with respect and civility. LGBT individuals will obviously be directly discriminated against if you refuse to serve them. However, many of your straight customers probably have a friend or family member who is LGBT, and wouldn't want them to be refused service or otherwise discriminated against. And if you love your employees, you'll also treat them with respect and dignity and won't single them out for disparate treatment based on their sexual orientation.
Savvy companies understand that it's better to champion diversity than focus on excluding a certain class of individuals. Beyond supporting your customer base, diversity also provides different perspectives and ideas on how to resolve daily business issues. Or, as we say here in Texas, "none of us are as smart as all of us."