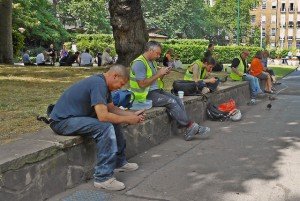 Summertime is finally here! Memorial Day is Monday, which officially kicks off the summer season. The big question is: Are you ready?
For many businesses, the busy summer season is a "make or break" time of year. If you're staffed properly you'll delight your customers, enjoy high sales volume, and maintain your staffing budget.
On the other hand, being understaffed for your summer season, may leave you feeling panicked as Memorial Day arrives. Relax and take a deep breath. Just dust off your staffing plan, give it a #SummerAudition, and get ready to launch the simplest candidate application process available.
Simplify Everything
If a process isn't working consider stripping it down to the bare minimum and figure out where to put your time, effort, and money.
Over the last several years HR Virtuoso has helped companies get staffed quickly and easily by making these simple changes:
Activate Mobile Apply
Candidates should be able to apply to your openings on any mobile device in 5 minutes.
Remember, our average attention span is 8 seconds. That's one second less than a goldfish.
Remove as many distractions as possible for candidates. Don't make them download an app, set up a user ID or password, or complete long forms that aren't mobile friendly.
At a recent restaurant industry conference, a major job board reported that the drop out rate for online applications is over 90%. The reason is that most hourly candidates don't have a resume to upload, so they drop out of the process. Plus, if a computer is required, they will also drop out. Consider how these statistics from the Pew Research Center impact your hourly candidate pool:
90% of Americans own a cell phone
83% of white Americans own a computer
70% of black Americans own a computer
72% of Latinos own a computer, but ownership is tied to education and whether they were native or foreign born:

Only 64% of foreign born Latinos own a computer
Only 51% of Latinos who do not have a high school diploma own a computer
Many hourly positions don't require a high school diploma or GED. But these employees may not have computers, so how will they apply to your openings?
At HR Virtuoso, we work with a major hospitality chain. We've carefully researched their application completion rates and can confidently report that they are 700% better than the national job board representative reported. This means that our clients instantly get a high number of qualified, local candidates to chose from.
Apply From Anywhere
If you're still asking candidates to apply in person during designated times of the day you are losing candidates. No one has the time to do this anymore. Consider your hourly workforce. Many employees work multiple jobs, attend school, and have family commitments. The best candidates won't take the time out of their busy schedules to apply in person.
Instead, make it easy for them to apply on their mobile devices.
Apply On Anything
Our clients who were previously paper-based are astonished how one simple change dramatically increases their candidate pool. It's quite simple. Keep posting on Craig's List or on other online sites, but let candidates choose how they apply. In the HR Virtuoso System we offer candidates three lightening fast ways: a link, a text-to number, and a QR code.
When we help our clients post ads on Craig's List we average over 300 applications in just a few days.
Prepare For Walk-Ins
Here's another simple tweak to a recruiting process. Instead of giving a candidate a tablet or paper application to apply on, offer them a recruiting card with a QR code and text-to number. The candidate simply whips out their phone and applies in 5 minutes.
We work with one of the country's leading spas and resorts. They don't want foot traffic on their property or people milling around their hotel lobby. This approach has allowed them to be more selective about who they invite onto their property – and also helps them maintain a peaceful, tranquil experience for their guests.
Leverage Local Grassroots Recruiting
It seems old-fashioned and low tech, and it is. But grassroots recruiting works and it's incredibly powerful. Grassroots recruiting helps you attract qualified, local candidates in a way that a national job board can't. What's more powerful: finding a job online or having a hiring manager hand you a recruiting card and urge you to apply? Grassroots recruiting personalizes the recruiting process for both the hiring manager and the candidate.
HR Virtuoso helped a hotel near the Philadelphia International Airport generate over 65 applications this year without a paid online job posting. They simply utilize grassroots recruiting and strategically place recruiting flyers and cards in the community. Since they're out making sales calls anyway, this approach works well. Their cost per hire is less than $.05 (the price for printing a flyer).
______________________________________________________________________________
We always look for ways to share best practices and improve our recruiting processes.
Did you enjoy reading this article? If so, the greatest complement you can give us is to share it with your friends and colleagues.