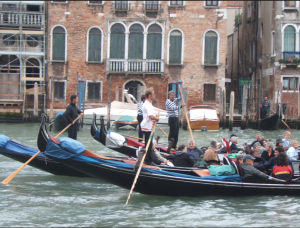 A few years ago I took a family vacation to Venice, Italy. As I observed the gondoliers working, I recalled reading a travel post about how Venetians speak a dialect that even other Italians find difficult to understand. I watched tourists enjoying their ride on the iconic Grand Canal and thought about that post. The gondoliers are notorious for making rude — and sometimes quite crude — comments about their customers. In this case, the gondoliers can get away with their behavior since most tourists don't speak Venetian. It's a different story for corporations when they don't communicate well with their candidates.
Recruiting is quite similar to other corporate functions such as marketing, sales, and customer service. Most major companies do an excellent job on their customer facing website. Major companies involved in e-commerce often have outstanding mobile platforms. This enhances their brand with customers. But their recruiting processes and platforms are still stuck in the 1990's. This can leave a negative impression on a candidate, which can damage your corporate and recruiting brand. So, think about the ways ("channels") that your candidates interact with your company. Are you treating candidates like valued customers? Or are you behaving like a rude gondolier?
The Application Process Channel
I recently met a colleague for lunch at a chain restaurant. As I was waiting for her, I pulled up the restaurant's webpage on my phone. As a patron, everything I could imagine was available. Beautiful pictures of seasonal specials were everywhere. The menu was updated and easy to read.
Then I navigated to the career page. The first thing I noticed was that it wasn't mobile enabled. So I pulled out my laptop and discovered that in order to apply for a server position, I would need to set aside a minimum of 45 minutes to take an assessment and complete the application process. Oh, and I couldn't apply on my phone, so my application would have to wait until I was in front of a computer.
45 minutes to apply for a server position? Really? Many servers I know have other jobs, school, and family commitments. And many of them don't have computers.
What message does this send to the candidate? What does it say about what it's like to work there? Obviously customers will always come first. But if you treat your employees the way you treat your customers, you'll be rewarded with lower turnover and higher productivity. And guess what? Happy employees talk positively about their employers to their friends and family, which in turn improves your recruiting brand and company image.
The ATS Channel
We all understand that employers – especially big ones – need some kind of database for electronic applications. These are known as Applicant Tracking Systems ("ATS"). Employers need to look at the ATS from the candidate's perspective. Do you make them watch a video before they can apply? Do they have to do an assessment before they complete an application? Is your ATS application process too long, and simply exhausting to navigate?
You probably don't make your customers jump through hoops to buy from you, so why are you doing this to your potential employees?
What spits back out of an ATS to a candidate is just as important as how data gets into it. Candidates lament that their resumes go into a "black hole". So, show candidates some respect. If someone happens to call about an application, talk to him or her. Wouldn't you want that same courtesy? At a minimum, send a candidate an email or a text so they know that their application was received and reviewed. After all, they spent a lot of time working on a resume, cover letter, and navigating your ATS. The least you can do is make sure that their application is acknowledged. Otherwise your company will be known as the rude gondolier of your industry.
The Social Channel
Companies obsess over their brand image with customers, but often fall short on the experience their candidates have with their brand. It's absolutely true that not all candidates are the right fit for the job. But with a little effort and some respect candidates can be declined in a gracious manner that still makes them think positively about your recruiting brand and company.
Candidates may not remember exactly whom they interviewed with at your company, but they'll always remember how that interaction made them feel. With social media the line is blurred between business and personal opinions. Those stories can go viral instantly but their effect can last a long time.
Candidates and employees have rated companies for years on Glassdoor.  More recently, Careerbliss, and Jobiness and a host of other sites have joined the mix. Simply Hired realizes that employer brand is a crucial part of the job search equation for candidates and employers. They just launched an Employer Brand Index for retailers that impartially measures the level of preference that a company generates from job seekers by analyzing actual job seeker behavior.
Summary
In the US, unemployment is already under 1% for many IT positions. It's also extremely difficult to find qualified truck drivers, welders, and other skilled workers. Do yourself a favor and make sure your company's brand is positive. Remember those gondoliers, and never forget that your reputation is everything.
Interested in learning more about how your recruiting process impacts your brand?  Want to talk more about those gondoliers?  Give us a call at 972-342-3021, or email Liz at liz@hrvirtuoso.com.