Carol Burnett is one of the greatest comediennes of our generation. Many people don't realize that in addition to her amazing comedic talent, she also has a gift for bringing out the best in people.
Don't Let Your Past Hold You Back
Carol Burnett had a difficult childhood. She was born in San Antonio, Texas to alcoholic parents. Her parents divorced when she was just 8. After the divorce, Carol lived at the Hollywood Arms apartments in California with her sister and her beloved grandmother. Although the "Hollywood Arms" sounds quite glamorous, the family lived in a one-room apartment with a pull down Murphy bed.  The Hollywood Arms was one block north of Hollywood Boulevard, but for Carol's family the glamor of Hollywood was a million miles away.
Keep Your Word
Carol attended UCLA, where a wealthy benefactor saw her perform. He asked Carol about her goals. She explained that one day she wanted to go to New York and be onstage in a musical but couldn't afford the trip. He offered her an interest-free $1,000 loan on the spot. There were four stipulations:
She had to use the money to go to New York.
She had to pay it back within 5 years.
If she was successful, she promised to help others out.
She could never reveal his name.
The loan was paid back on time.  Over 60 years later, we still don't know the name of her generous benefactor.  Carol is a woman of her word.
Help Others
Vicki Lawrence was just 17 when she wrote Carol a fan letter and enclosed a picture of herself along with a newspaper article clip about the upcoming "Miss Fireball" contest that she was entered in.   At the time, Carol was pregnant with her second daughter, Jody, and was past her due date. We'll never know if it was the picture, the letter, or the newspaper clipping, but something gave Carol a feeling that she needed to see Vicki in action. So she and her husband drove out to Inglewood to see the Miss Fireball contest, which Vicki won.
Several weeks after the contest, one of Vicki's friends heard the news about Jody's arrival on the radio. Vicki showed up at the hospital with flowers.   Shortly thereafter she was cast as Carol's sister on "The Carol Burnett Show".  Admittedly, Vicki had raw talent when she joined the show, but under the tutelage of Carol, Tim Conway, and Harvey Korman, Vicki came into her own, and became an Emmy winner to boot.
Job seekers can learn a lot about persistence from this story. Hiring often comes down to instincts, so there's a lesson here for hiring managers and recruiters, too. Here's the story in Carol's own words:
Let Others Shine
Carol Burnett may have headlined "The Carol Burnett Show", but it was truly an ensemble effort.  She's playing a supporting role in this skit:
And she's not even in this one.  Many of us watched the show religiously just to see if the cast would crack up on live TV.
http://youtu.be/wk92O0SEjXc
Personally I can't watch these iconic clips without falling out of my chair. Tim Conway is genius. And poor Harvey Korman is spouting tears!
Carol let her performers shine, but she also took note of input from other sources. Bob Mackie designed the costumes for her show.  Remember those  beautiful gowns for the audience Q&A session?  In addition to dressing transforming the cast into Mama's Family, it was his idea to leave the curtain rod in this little number: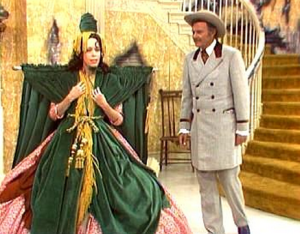 Family First
Carol never forgot her grandmother, and always tugged on her ear at the end of every TV performance to say "hello" to her.  It became her signature move and signaled that the show was over.
Despite her professional and financial success, Carol had to deal with a lot of heartache. Her second husband, Joe Hamilton, was the father of her three girls. He produced The Carol Burnett Show, and they enjoyed working on it since they could be home for dinner most nights and their shooting schedule aligned with their daughters' school calendars. Joe struggled with alcoholism. During a relapse he and their daughter, Carrie, were at the same rehabilitation center. Can you imagine visiting your spouse and your child at the same time in rehab?
Joe and Carol eventually divorced.   Years later, Carol married her third husband, Brian Miller. Carrie got clean and became a star in her own right. Tragically, she died of lung cancer at just 38.
Stay Strong During Tough Times
Losing a child is the most crushing pain a person can experience. Before she died, Carrie wrote a play with Carol called "Hollywood Arms". The play was based on Carol's memoir. Carol ensured that the play was produced and it went on to win a Tony award. But she didn't produce the play to glamorize her life. She produced it to honor Carrie. She followed up with a beautiful book, "Carrie and Me", that gives insight into Carrie's childhood, her struggle with addiction, and her writing talent. It is truly a love letter and is also a testament to Carol's strength.
Leading Like Carol
Carol Burnett impresses me in so many ways. She honored her commitment to her benefactor and has paid it forward countless times. Other stars with their own shows often become divas. Carol is collaborative and values input from her cast and production staff.  She also knows that shows come and go, but family is forever. When Carrie went through rehab, she realized that she could use her celebrity to help other people struggling with addiction.
So, during this season of Thanksgiving and family holiday traditions, ask yourself: Can you assemble a team like Carol Burnett? Are you paying it forward? Do you listen to your instincts when recruiting new talent?  Do you recognize raw talent when you see it?  Do you collaborate with others? Are you grateful for your family? Take some time this holiday season and reflect.  And if holiday stress gets to you, come on back and watch these videos again.
Since I've already brought your productivity to a standstill by inviting you to watch these clips, I have one last leadership lesson for you. Check out Vicki Lawrence as she comes into her own. Carol's protégée has indeed transformed from raw talent into a diamond.
Are you looking for innovative ways to source your next award-winning cast? Or would you just like to share some more videos of Carol, Vicki, Tim, and Harvey cracking each other up? Either way, please contact us at info@hrvirtuoso.com, where we always stay up late for classic TV episodes.