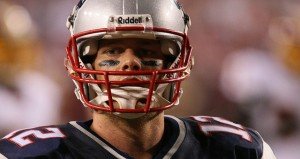 As an HR professional I'm a bit confused by the NFL's reaction to "Deflategate".
Let me say at the outset that I'm not a football fan. In my house, "NFL" stands for "Not For Liz" instead of the National Football League. Although I don't watch football I'm fascinated by the reaction the National Football League – the real NFL – had to Deflategate.
The Crime
For those readers who are overseas or, like me, aren't true football fans, here's a brief synopsis of Deflategate. Back in January there was an American Football League championship game between the New England Patriots and the Indianapolis Colts. The Patriots won that game and went onto win the Superbowl. It was later discovered that the Patriots used footballs that were slightly deflated – and easier to grasp and catch – during the AFC game. The NFL investigated and found that the Patriot's quarterback, Tom Brady, "was at least generally aware" of plans by Patriots staff to underinflate footballs to Brady's liking. In other words, the Patriots cheated and their quarterback was aware the deception.
The Punishment
The NFL suspended Brady for four regular season games and fined the Patriots $1 million. The Patriots also lost some draft picks, including their ability to draft from the first round of college football players.
Football fans are having a hard time understanding the NFL's actions in light of a recent scandal involving Ray Rice. Rice played for the Baltimore Ravens and was caught on video knocking out his fiancée and dragging her out of an elevator while she was unconscious. He initially received a 2-game suspension. Eventually the NFL reconsidered and ultimately suspended Rice for the entire 2015 season. Rice appealed the suspension in federal court, and won. However the Ravens cancelled his contract. Rice is a free agent without a team. It's quite possible that his brand is irrevocably damaged.
How does the crime fit within the company's values?
Every HR generalist helps define degrees of unacceptable conduct and performance. Some companies mete out punishment more harshly than others. For example, there's a spectrum on cheating that ranges from an honest mistake to termination. An honest mathematical error on an expense report usually results in a verbal coaching session. If the math error continues, it's a performance issue that is addressed through retraining and documented coaching sessions. On the other hand, forging receipts for reimbursement usually leads to immediate dismissal.
Skilled HR professionals navigate these waters every day by reminding management teams about the consistency of their past practices. They also know when circumstances call for a new precedent.
Using that same scale, let's consider Brady and Rice's misconduct. Personally, it's hard for me to reconcile the punishment. Rice's domestic violence only initially garnered a 2-game suspension versus Brady's 4-game suspension. Does this mean that cheating is more egregious to the NFL than domestic violence? What does this say about how the NFL values women?
The NFL Brand
The NFL just sent a message that cheating is worse than domestic violence. It remains to be seen if this decision will have repercussions with fans.
The NFL actively courts women to grow its fan base. Its most visible effort is during October (Breast Cancer Awareness Month) when the players wear pink and the league donates a percentage of merchandise sales to cancer research. It's working too. Female NFL viewership is up 26 percent as compared to an 18 percent increase for men. But the NFL appears to be in a cycle of damage control mode it comes to domestic violence and other player misconduct issues.
It's extraordinary difficult to maintain a positive brand image without strong corporate values and consistent messaging around those values. The question for the Patriots, and perhaps the NFL as a whole is: Do you really want to win at all costs? Does this mean cheating and spying on other teams is permissible? Are you comfortable retaining players who abuse their significant others? Clearly the Ravens concluded that they couldn't condone Rice's behavior. Perhaps some franchise owners aren't quite as forgiving as the NFL.
The Patriot's Recruiting Brand
From a recruiter's standpoint it's very interesting that part of the Patriot's punishment involved draft picks. Obviously the NFL intends to prevent the Patriots from recruiting top talent. Consider this: If you're a college football player, would the Patriots even be your first pick at this point?
Corporate recruiting brands also get damaged by scandals and class action employment lawsuits. But the more insidious damage to recruiting brand occurs when companies don't cultivate a positive culture and engage their employees. Don't ever underestimate the candidate grapevine. Word spreads very quickly about your corporate culture, what it's really like to work at there, and how people are treated.
The Game Plan
Many people often observe that it's easier to manage in a union environment because the rules of engagement are clearly outlined in a contract. In a non-union environment it's impossible to foresee and develop a policy for every situation that may arise. Nonetheless, employees usually understand why their coworkers are terminated or otherwise disciplined and tend to respect those boundaries.
Since the NFL struggles to consistently discipline players and teams, perhaps it should revisit its values, examine franchise owner and player contracts, and create a game plan when misconduct occurs. This would help everyone clearly understand the organization's values and what happens when cheating, domestic violence, criminal acts, substance abuse, or other issues arise. And who knows? Maybe I'll even become a fan one day.
Photo credit: Keith Allison