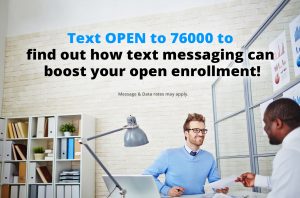 Annual open enrollment gives your employees a chance to change their benefits. Text messaging offers direct communication during this time, so your employees can learn about all benefits they can choose from. While you might have tried email in the past, it is a less efficient way to reach out to your employees and get them ready for the open enrollment period. Help your employees to enroll in benefits by providing easy ways to communicate with HR.
Your open enrollment period will be simplified with text messaging.
It's easy to let staff know the period of open enrollment is about to start
A text message sent to your employees a few days or weeks before open enrollment begins can make the process go more smoothly. Employees can start to look at possible options before the period starts, and can be ready to sign up as soon as the open enrollment begins. Text messaging provides quick, direct communication to get your employees thinking about open enrollment.
Changes are easy to confirm
Automated texts can be sent when one of your staff changes a benefit plan or decides to choose a new benefit. This will be a confirmation text, letting your employee know that the changes have been received by the HR department. In addition, if a change is made in error, your employee will be notified and the problem can be fixed. Automated messages are a fast way to let an employee know that you are making the changes requested and it creates documentation that the change was requested in the first place.
It Helps Avoid Mistakes
Only 9% of employees are 'very knowledgeable' about their benefits, and this means you may have to communicate back and forth with your employees to determine the specifics of the various benefit plans. Keep your employees informed by answering text messages right away and share links to the plans you have available to choose from. Employees can ask direct questions, making the potential for mistakes lower. Text messaging is precise communication that makes administration of benefits easier.
It Reminds Employees
You can send out reminders to your employees who haven't signed up for benefits yet automatically. Whether you send a reminder every few days, every day, or once a week, the system will keep employees on task. If an individual hasn't signed up to meet with HR, an automated text can be sent to request a meeting. In addition, you can ask an employee to fill out additional forms if necessary through a text message.
It Gathers Feedback
Receiving feedback from employees is the best way for your company to improve human resources and the functions they perform. To improve future open enrollment periods, send out a text message to a survey requesting feedback. It's easy to use, and you will gather useful information from your employees. To make your next open enrollment period go more smoothly, gather feedback shortly after your current enrollment period ends.
Since it's one of the busier times of the year, simplifying open enrollment can make your HR department run more smoothly. With text messaging in place, your employees will have an easy way to ask questions, set up appointments and receive reminders about upcoming meetings. To communicate in a direct, easy way with your employees, text messaging is the answer. Your open enrollment period will go easier this year with texting in place.
For more information on how you can simplify your open enrollment period with text messaging, text OPEN to 76000.
Guest blogger Ken Rhie is the CEO of Trumpia, which earned a reputation as a complete SMS solution including user-friendly user interface and API for mobile engagement, Smart Targeting, advanced automation, enterprise, and cross-channel features for both mass texting and landline texting use cases. Mr. Rhie holds an MBA degree from Harvard Business School. He has over 30 years of experience in the software, internet, and mobile communications industries.